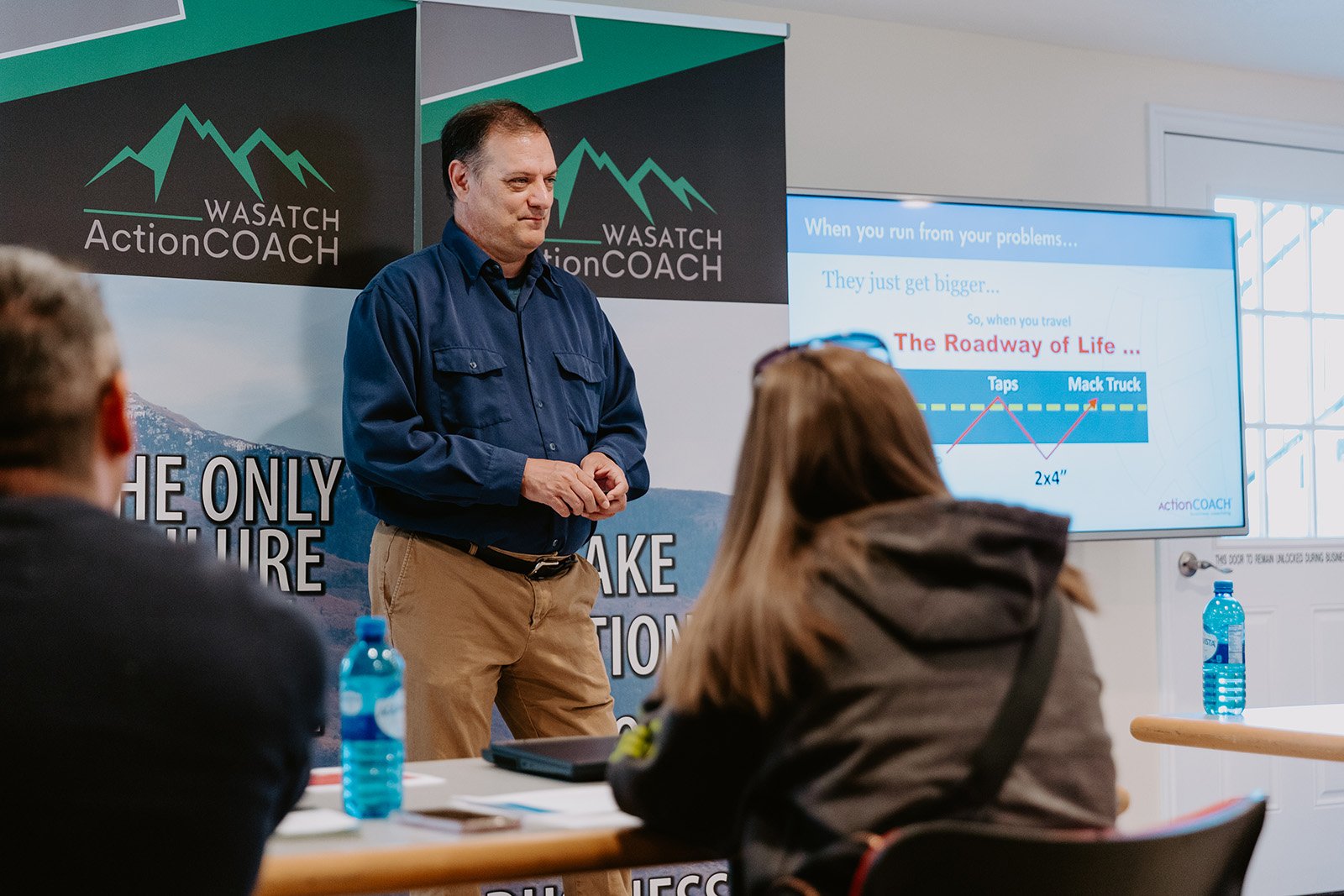 HELPING BUSINESS OWNERS REACH THEIR NEXT LEVEL OF SUCCESS
You deserve a more joyful, profitable, and balanced life!  Take Action today.
Attend a FREE Lunch-n-Learn
Business Consultant in Kaysville
Learn how you can ACHIEVE YOUR DREAM!
BOOK A
FREE

COACHING SESSION Book A Session
If you're not doing these 3 things to grow your business, YOU are on the WRONG track!
Time

1. Time Saving
2. Improving Efficiency
3. Priority Managment
4. Taking advantage of systems/technology

Team

1. Successful Recruitment/Retention Strategies
2. Team Building & Communication
3. Improving Team Productivity
4. Understanding Behavioral and Personality Traits

Money

1. Increasing Revenue/Profits
2. Improving ROI such as Marketing/Advertising
3. Increasing Leads & Sales
4. Improving all 5-Ways a Business Generates Profits
Business Coach
Each business is different and requires individualized coaching. Coaches can help you work through the highs and lows of business and maximize what is currently working in your business. Providing a new perspective is our focus here at Wasatch ActionCOACH.
Executive Coach
Wanting to improve productivity and production in your business? Look no further than our coaches to help expand your leadership skills and work on team-building measures. 
Entrepreneur Coach
Tackling your own business means you need someone who will be honest with you. Our coaches can guide you through every step of starting and running your business and help you surpass every goal you have set. Long-term success is our biggest priority.
Leadership Coach
Not everyone is born a leader, but learning more about your communication skills, learning how to listen, and working to respect your employees is what we work to improve with our leadership coaching. Wasatch ActionCOACH wants to make each leader the best person they can be with attainable goals.
Sales Coach
The key to sales success is to pinpoint your strengths. We share our resources with you on what has worked to sell products in the past. Being consistent with your strategy is the most optimal way to increase sales.
1 On 1 Business Coach
This session of coaching holds you accountable and helps you develop a program that improves your individual brand and your entire company. We have 4 signature coaching programs that are 1 on 1 with our professionals. Learn more about each one here.
Group Coaching
Some businesses can benefit from working in groups and hearing the ideas of others in an open setting. Working with a small group of people brings new perspectives and room for questions. Increase your profits and office morale with group coaching.
Business Education Events
Wasatch ActionCOACH is a business coaching company
ActionCOACH has been helping people and businesses to work through these kinds of issues for over 25 years. The knowledge and systems developed over that time have brought significant improvements to hundreds of thousands of businesses around the world.
When you're ready to massively improve your business, your income and your lifestyle, call to arrange a complimentary consultation and together we'll explore the possibilities for you and your business.
Book A Session
I went to one of Wasatch Action Coach seminars, and it was fantastic. They are great at training and helping businesses get to the next level in their...

Great folks with very helpful information. It will not be wasted time.

Very helpful! Gave me lots of points to think about

I've had a couple of interactions with ActionCOACH so far and it's been very positive.

Great presentation, knowledgeable team

(Translated by Google) The Wasatch ActionCoach seminar was amazing! It was very informative and enjoyable! Super friendly environment! I definitely got great...

(Translated by Google) Excellent and nice place learning and was able to learn some important concepts about how to grow a business. Highly recommended......

I came to a Lunch and Learn and was able to learn some important huskiness concepts of how to grow a successful business.

Loved this experience. Enjoyed the people and knowledge shared.

Great information and very personable!

Frank has not only taken my business to the next level but has helped me work on the business then only in the business!

We have been struggling with our business for about 5 years, things were ok but just not where we wanted them to be. We went to a 1 hour presentation and...

Had introductory meeting which was helpful

Great coaching. Definitely recommend checking them out

This is a great resource for empowering businesses and for success through accountability.

I was amazed at the result!

I was very impressed with the information I walked away with.

Very beneficial!I highly recommend attending this seminar.Very well planned our. Trainers were terrific…I'll definitely be back for more

Was informative on how to define your business and the direction you want to take it.

Very good advice to really get my mind thinking of my next step.

Action coaching helps with increasing the results of your business by helping to create systems that ultimately increase profits.

I had a great experience at their "lunch & learn" and will be able to apply some of the information to my business!

Great information and good speakers.

Great experience learning how businesses can grow by having a business coach.

Sterling and Frank are awesome to work with! They are so personable and kind. I'm excited to work more with them.

Great people! They have a lot of helpful principles for traditional business owners! Would recommend

I just had the pleasure of sitting through an hour long presentation with lunch provided and boy was I impressed! I felt no pressure at all!

Thanks for the help! Great information and classes!!! Excited to get started on implementing new ways to do business!!!!

Good information, helped remind me what I need to work on in being a better business owner.

Very knowledgeable and experienced

Growth Club is phenomenal! Growth Club is a great way to intentional improve and grow your business.

The information was very clear with self directed concrete actionable plans. I intend to use this system to both take my business to the next levels as well...

We attended the Business Growth Master class, and they explained how to get our business running like a smooth machine! Thanks

Thank you Wasatch ActionCoach for working hard to provide small business owners with the tools needed to make it happen!!!

Action coaching is pretty cool. Highly recommend!

These guys have a Great team, they've taken the time to help me take the steps I need to grow both personally and in my business.

A fantastic resource! If you're running a business, you need to at least give these guys an opportunity to help your business.
Take Charge of Your Future
Who is ActionCOACH?
I am a certified business coach and own my local ActionCOACH office. I help driven and energetic business owners and leaders increase their profits and their operating efficiencies.
As your coach and advisor, I will help you achieve more using proven tools, methodologies and systems, tested and perfected over tens of thousands of businesses worldwide over the past three decades. I will hold you accountable for your results and, just like a sports coach, push you to perform at optimal levels.
Let's schedule a Free Business Coaching session to get started…
FREE Coaching Consultation, where we will leave you with One proven technique to increase revenue generation that you can use TODAY.